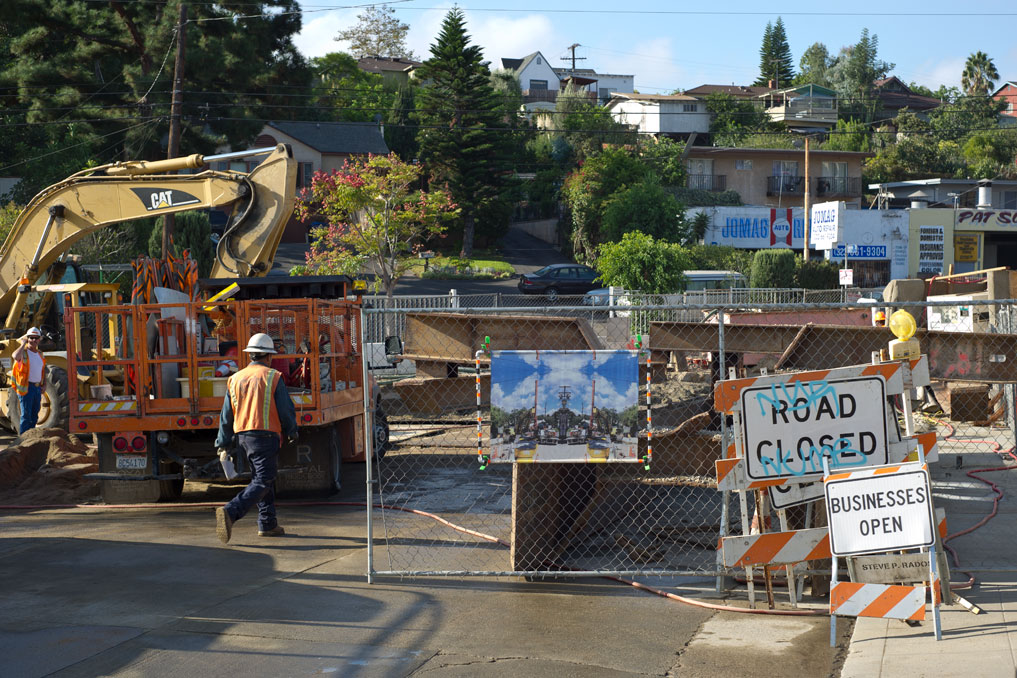 Construction Man Dinner, Silver Lake | 2013

A year after the LA Department of Water and Power's Supply Conduit Improvement Project broke ground, disrupting the traffic through Silver Lake and generally disturbing the residents, Bettina began photographing the construction happening directly outside her house. Rather than adding her voice to the public outcry, she decided to find something positive amid an otherwise frustrating situation.
For nearly two years, Hubby photographed the changes in her environment, chronicling the demolition of the street and the workers who came daily to make the project happen. As the construction project took root, so did Hubby's idea. She transformed her construction site photos into large-scale mirrored images which she installed at actual construction sites. Reflections of cranes and hardhats merged into one another, adorning the industrial workspaces and offering new ways of seeing spaces which are often overlooked.
It also became very important to Hubby that she involve the construction workers in her project. To honor them and to share her work with them., she arranged a special dinner at the work site. The silk photographic prints framed with plumbing pipes were clamped on the chain link fences surrounding the Rowena site. Heat lamps and tables decorated with "construction zone orange" balloons and flowers in safety cones provided a warm atmosphere on a chilly winter night. Local businesses donated pizzas, tacos and wine. Musician Chris Stroffolino had his piano van onsite, and played from inside the open door. In the evening, with help from members of the construction crew, Hubby suspended a disco ball from the upright arm of a bulldozer. The contested Rowena project site became the site of a neighborhood celebration welcoming friends, neighborhood representatives and the workers who had spent several years there.