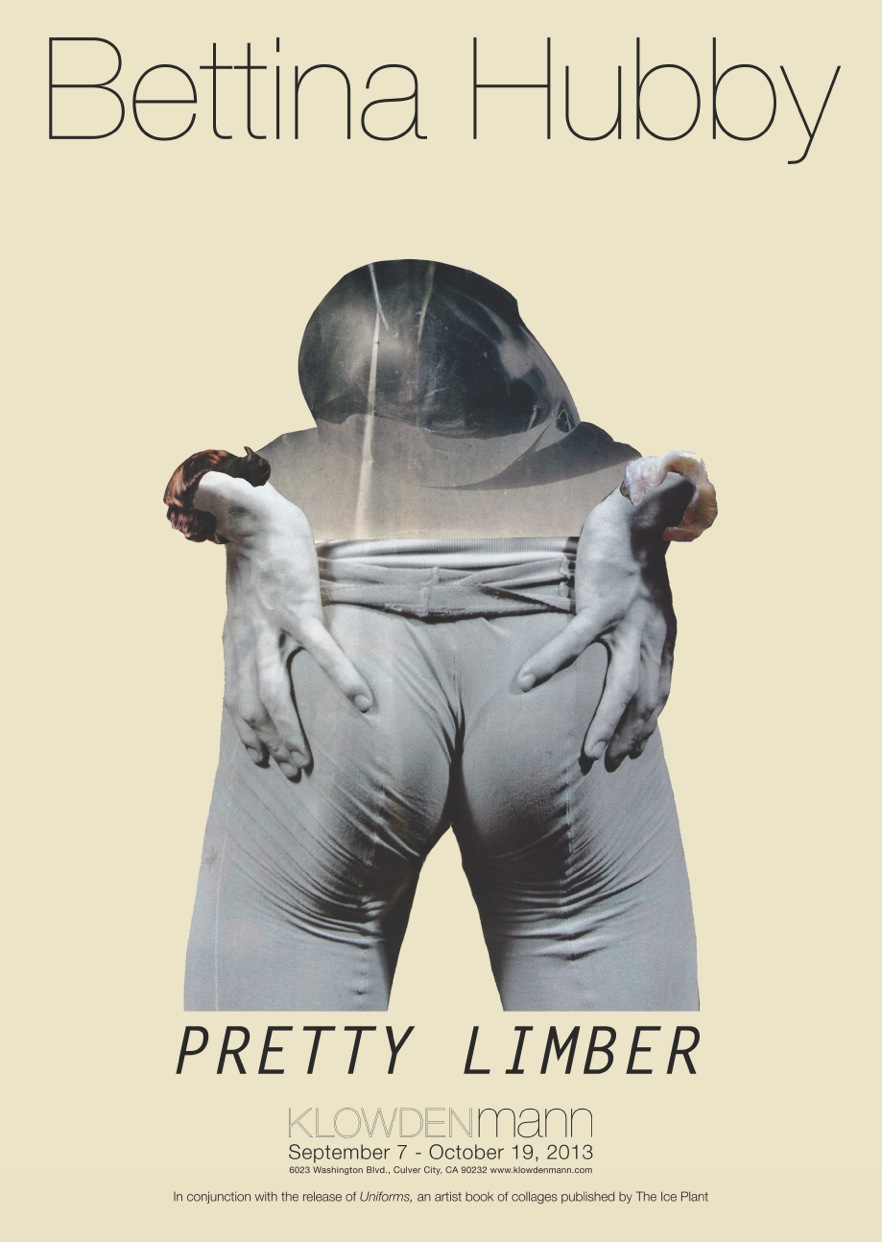 Pretty Limber, 2013 collage on paper 12.75 by 22.25 inches
September 7 - October 19, 2013

PRESS RELEASE:
Klowden Mann is proud to present our first solo exhibition of work by Los Angeles- based artist,
Bettina Hubby, Pretty Limber, the inaugural exhibition in the gallery's new
Culver City location. The exhibition will feature an integration of various elements of Hubby's
practice, founded in her collage work, and presented as individual works on
paper, large scale vinyl cut outs and fabric pieces. The pieces range in size from 5 inch by
112 inch paper works presented in plexiglass, to five foot by seven foot mounted vinyl
figures traversing the gallery walls.

Hubby's work in Pretty Limber approaches the way in which physical bodies interact
with and define space, and the various levels of ritual used in the individual and
communal construction of identity. Boundary and its redefinition is a pervasive theme in
the work, as the paper and vinyl forms comfortable inhabit their exhibition space
while seeming to question its function, and offer unexpected possibilities for expansion,
interaction and play. Many larger vinyl forms are paired with their smaller paper origins,
and in this altered-scale doubling Hubby re-orients perspective and sense of place.
Texture, pattern, articulated line and negative space (approached positively) are each
present in the work, as figures, fabrics and forms are combined with any physical body
removed and the three-dimensional substance of the body-form implied. Vinyl figures on
the wall--both applied directly to the wall surface and mounted in distinct levels of
distance from the wall--point us towards the wall itself and our relation to it, the inherent
choices afforded by movement, self presentation, and interaction.

In the gallery project room, Hubby creates a boudoir of sorts--fleshed colored walls act as
context for a bed installation, with bedspread and pillows formed from prints of vintage
European pornographic imagery with the physical bodies removed, and intermittent
threaded enhancements of hair, clothing, and furniture. The fabric pieces are
accompanied by vinyl hybrid forms and paper pieces occupying the surrounding walls.
Here, the physical forms (that which has been removed and that which remains) are
clearly sexual in nature, offering a furthering of the conversation began in the main
gallery space and bringing a new overt eroticism to what has been implied in the pent-up
energy of the other forms. In both rooms, space and figure maintain equal importance
overall, in the framing of a shifting power dynamic in which dominance seems to belong
to one or the other, in individual pieces or in turns. The forms combine to bring the
audience awareness of our own bodies, and the space we encounter and invent in
combination with our environment and one another.
Klowden Mann is thrilled to announce our representation of Los Angeles-based artist Bettina Hubby.
Photos by Josh White

For inquiries contact info@klowdanmann.com