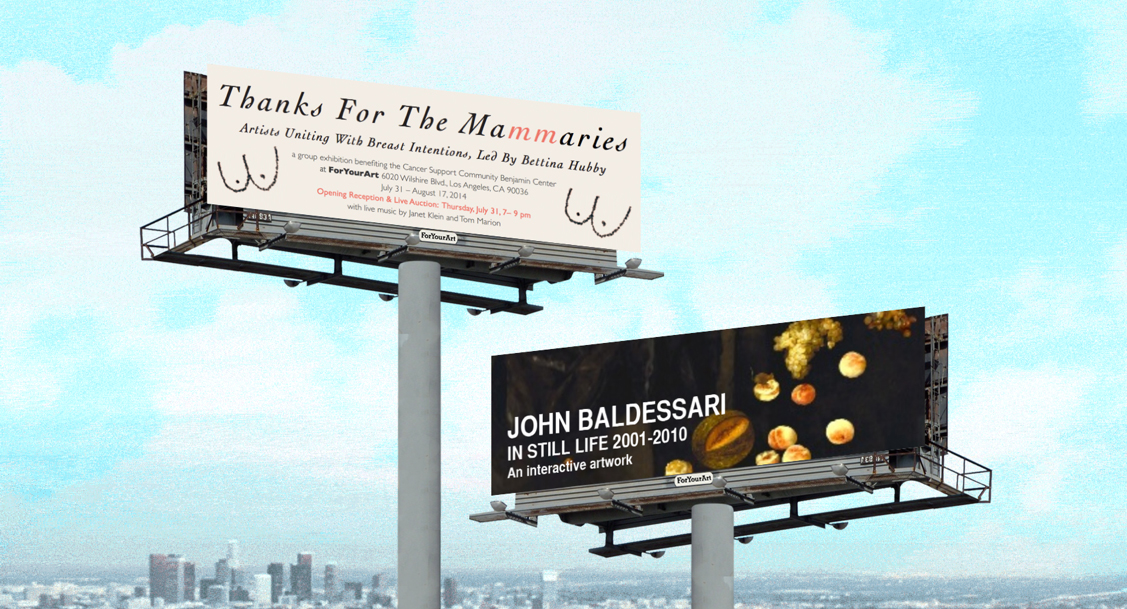 Thanks for the Mammaries! ForYourArt 6020 Wilshire Blvd., Los Angeles, CA 90036 July 31 – August 17, 2014; Opening Reception: Thursday, July 31st, 7-9pm
What began on Facebook as a unique and smile-inducing way for Hubby to announce her own diagnosis with breast cancer and the double mastectomy surgery that soon followed, came to fruition in the form of a singular exhibition only four months later. Thanks for the Mammaries evidences an art community at its kindest. She didn't want pity, she wanted to laugh, and so Hubby asked for people to send her boobs, not sadness, and it worked. Every day people flowered her with images, videos and verbiage of a boob-variety unimaginable, and this helped her through, and inspired her to pay it forward. Then she sent out a call to artists to submit works for an actual exhibition and accepted all entries. The resulting array of breastishness was boggling and delightful, eerie and powerful.
Thanks for the Mammaries, Los Angeles-based artist and provocateur Bettina Hubby's unique exhibition of boob-themed art, including 125 artists who came together to support Hubby in the face of her recent diagnosis with breast cancer, was presented at ForYourArt by Klowden Mann from July 31st–August 17th. Entertainment was delightfully provided by Janet Klein and Tom Marion.

A percentage of the sale of each piece during the auction and subsequent run of the exhibition went towards The Cancer Support Community Benjamin Center, a local Los Angeles charity that offers free support groups, counseling, and educational symposiums for those facing cancer, with specific support groups and educational outreach for breast cancer. A panel discussion on August 17th will held with major figures in the field of breast cancer research, treatment, alternative and technological advances who offered their expertise and opinion on the state of cancer response as it stands today.
Thank you for showing your support for the most serious of topics approached in a brave and beautiful way.
The spirited and appreciated artists included in this exhibition are as follows: Suzanne Adelman & Keith Walsh, Adler & Edmark, Ashton Allen, Skip Arnold, Joshua Aster, Chad Attie, Virginia Broersma, Kristin Calabrese, Gary Cannone, Jamison Carter, Bernard Chadwick, Angel Chen, Alice Clements, David Cull, William Dailey, Jill Daves, Gerald Davis, David Deany, Michael Dee, Mara De Luca, Ruben Diaz & Rebecca Lofchie, Bob Dornberger, Shannon Durbin, David P. Earle, Rebecca Farr, Susan Feldman, Christine Frerichs, Dwora Fried, Barbara Gillespie, Paula Goldman, Emma Gray, Rachel Grynberg, Karin Gulbran, Joe Hardesty, Jacqueline Haut & Nicolo Messina, Micol Hebron, Toby Burke Hemingway, Bettina Hubby, Tyler Hubby, Tomi Hurtado Sher, Jessica Huston, Charles Irvin, Kristin Beinner James, Pamela Jorden, Savannah Kingsley Smith, Janet Klein & Robert Loveless, John Knuth, Alison Kudlow, Tessa Laird, Brianne Latthitham, Cathy Lightfoot, Kristi Lippire, David Lloyd, Karen Lofgren, LuLu LoLo, Omar Lopex, Marne Lucas, Randi Malkin Steinberger, Daphne Mangin, Luiga Martelloni, Alexis Mendez, Rebecca Niederlander, Chris Oliveria, John Orvis, Adrian Paules, Adria Pauli, Terri Phillips, Pat Pickett, Norah Plum, Linda Pollack, Olivia Primé, Stephanie Pryor, Steven Rimlinger, Rebecca Ripple, Jennifer Rochlin, Marcella Ruble, Ed Ruscha, Amy Russell, Ander Sanborn, Esteban Schimpf, Julia Schwartz, Danny Shain, Susan Silton, Mike Slack, Joe Sola, George Stoll, William Stone, Paula Tiberius, Dani Tull, Gabriela Tollman, Spike Dolomite Ward, Nicki Wicker, Alexandra Wiesenfeld, Saskia Wilson-Brown & Micah Hahn, Bobbi Woods, Jessika Wood, Austin Young.

Click to see the Thank for the Mammaries Facebook Page.