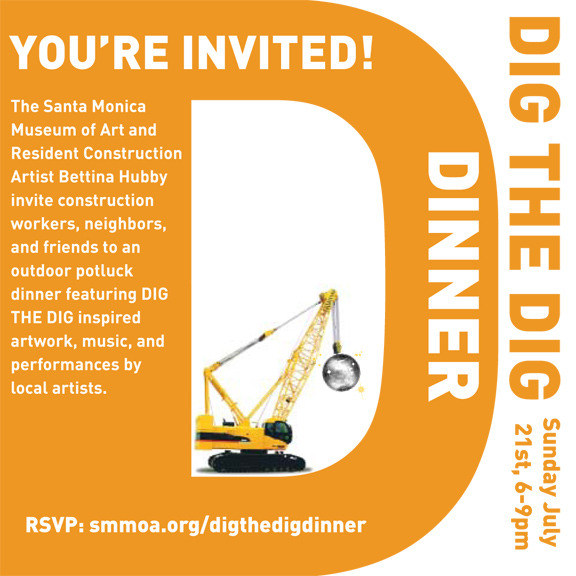 BETTINA HUBBY AND THE SANTA MONICA MUSEUM OF ART PRESENTED A POTLUCK DINNER AND CELEBRATION IN CONJUNCTION WITH DIG THE DIG, HUBBY'S ART-ACTIVATED INVESTIGATION INTO THE METRO EXPO CONSTRUCTION SITE ADJACENT TO THE MUSEUM.
Hubby's latest work at SMMoA, Dig the Dig, was a three-month, multivalent project in conjunction with the Metro Expo construction at the 26th Street/Bergamot site that culminated in this art-infused potluck for workers, artists and neighbors. In order to turn the dust and disruption in Santa Monica into a celebration of change, Hubby arranged a night of food, fun, and construction site-specific art and musical performances and driven some unexpected engagement between residents, workers, and contemporary artists.
Dinner guests enjoyed samples of DIG, a bespoke scent created by The Institute for Art and Olfaction; music from T. Kelly Mason, Soy La Mujer, and Chris Stroffolino; and cocktail artistry by Ivette Soler. Participating artists include Gordon Bowen, Josh Callaghan, Alice Clements, Eve Fowler, Steve Hurd, InflatoCorps, Kristin Beinner James, Adam Janes and Justin Miller, John Knuth, Karen Lofgren, Omar Lopex, Christopher Michlig, The Modeling Agency, Adrian Paules, Nora Jean Petersen, Pat Pickett, Nancy Popp, Olivia Primé, Jim Skuldt, Mike Slack, Mariángeles Soto-Díaz, and Keith Walsh. Additional creative contributions from Fallen Fruit (David Burns and Austin Young), Samo Hurt, Barbara Gillespie, Dave Cull, and Zig.